Pontiac Introduces the Fiero
FIEROs hit the car market in 1984 with a BOOM!! The estimated sales of 80,000 in it's introductory year rose to an unexpected 136,840!! The FIERO is the ONLY North American mid-engined mass produced automobile and the only 2-seater ever produced by PONTIAC. The FIERO was profitable during its entire run. It was the darling of the Auto Industry and Automobile Magazines, receiving numerous awards for its innovative design and construction concepts.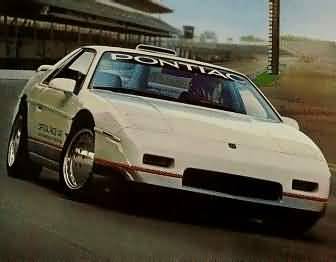 It's steel space-frame/plastic body construction was, and still is revolutionary. The Chev Lumina APV van and Pontiac Transport van used these construction methods as well during those production years. Today, the Saturn and a few other GM autos are using the plastic panels in vulnerable areas such as doors and fenders due to its dent resistance.
In addition to the base coupe and SE models, copies of the INDY Pace Car were available to the public in 1984. Starting in 1985, Pontiac introduced the GT line. These featured a more powerful V6 engine, larger wheels and tires, more performance oriented suspension and numerous creature comforts. In 1986/87 a new "fastback" body style was introduced on the GTs. These were the "top of the line" model of the FIERO - usually fully loaded.
The MERA was being marketed and sold by Pontiac Dealers. The MERA was a re-bodied FIERO produced by CORPORATE CONCEPTS in Carpac, Michigan. These were Ferrari 308 (Magnum P.I.'s car) look-a-likes that prompted a lawsuit by Ferrari against Corporate Concepts. Only 247 (88 1987-GTs and 159 1988-SEs) were produced before production of the FIERO was halted - making the MERA the rarest "FIERO" available.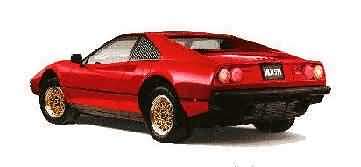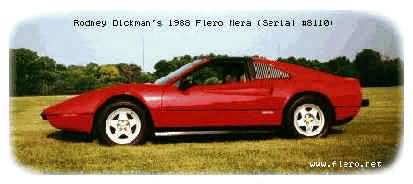 There were big plans ahead! A newly designed suspension was in the works along with a new electro-hydraulic power steering system. Prototypes were built of convertibles, Fieros with light weight aluminium space frames (200 lbs) and several other body styles, including a 4-door. GTs with prototype 2.9L V6 turbo'd aluminium engines were built and tested. The turbo'd engines put the FIERO's performance up there with that of the Corvette - but at HALF the price!! What could have been!! Only the new suspension made it into the 1988 FIERO models - the last year of production.
The success of the FIERO caught the attention of other car makers, and an influx of 2-seaters followed. Toyota's MR2, Honda's Civic and Mazda's Miata came along into the 2-seater car market, and sales figures of the FIERO came down because of the small limited number of 2-seater buyers being spread out among more manufacturers. As production levels came down, managment at GM decided to stop production of the FIERO with 5 years under its belt. It made no sense to have a plant with a 200,000 car capacity producing less than 30,000 cars a year. The final call came with the 1988 model year. During the entire 1984-88 run 370,167 FIEROs were built. Production numbers are below. As you can see, numbers are limited, with 1988 5-speed FIERO GTs with T-tops being the most desirable

Fiero - Alive and Kicking Hard
FIEROs are cruising the streets of Canada, the U.S. and Europe, some in beautiful stock condition, others not even recognizable as FIEROs. The innovative construction of the FIERO has now made it the darling of the Kit Car Industry. ANY stock body or aftermarket body kit using stock panel mounting points will fit any year FIERO. You can put an 1988 GT body on a 1984 coupe etc.
These include custom designs such as the Artero / TR GT / Stallion / GTO / Enterra / XTC GT and Corson Fiero as well as replicas of famous cars such as: Boxer 512 / Ferrari Dino / Ferrari 308/328/F355/F40/ Testarossa / Ford GT40 / Lamborghini Countach / 25th Anniversary Countach / 5000S Countach and Lamborghini Diablo.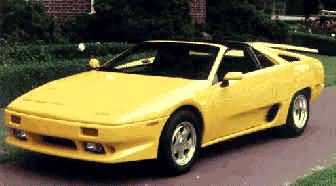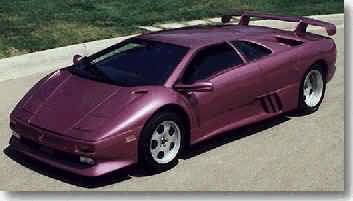 To keep up with the high performance looks - catalogs full of performance parts and accessories of all kinds are available and only limited only by how many $$$ you want to spend.
There are upgrades for interiors (leather seats, custom panels, Euro-dash kits, electronic dash kits, carbon fibre panels, etc.) AM/FM/CD stereos, higher performance brakes and suspensions, ceramic headers, exhaust systems, performance engine components and upgrades, electrical upgrades, Nitrous Oxide systems, superchargers, turbo and twin-turbo kits are available!! And more....
Engines That FIT...
Chev 3.1L and 3.4L V6 (almost a direct swap)
Pontiac 3.4L DOHC (215hp)
Olds/Buick 3800 V6 (205hp)
Olds/Buick 3800 V6 Supercharged (240hp)
GM C
hev 350 V8 (hp anything you want)
Cadillac Northstar 32-valve V8 (315hp)



With all the flexibilty a Fiero offers to todays Hot-Rodder, it no wonder that FIERO ENTHUSIASTS have formed the largest number of new Car Clubs and Car Websites in North America with many overseas members joining the fun. Along with this growing enthusiasm, Vendors of replacement parts, specialty items and custom performance and appearance equipment help the Fiero Enthusiast build virtually any version of a Super Car they desire...
Join the Fun...