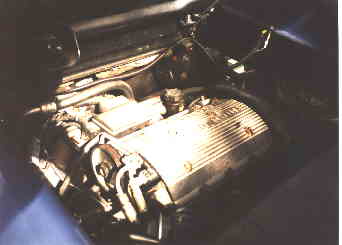 Since 1988 the Quad 4 engine has appeared in various vehicles including the Grand Am, Beretta GTZ, Olds Calais and SCX. In it's first model year it was rated at 150 HP. In either 1989 or 1990 GM released the 180 HP HO Quad 4. Among other changes, this engine runs 10:1 compression (up from 9.5:1) and uses different intake and exhaust manifolds. To the best of my knowledge, the most desirable Quad 4 is the version used in the 1991+ Olds 442 HO W-41 and SCX cars. In recent years, factors such as cold start emissions have caused design changes that lowered the HP to the mid 170 range. GM has also added a balance shaft to smooth out the engine and as a result the redline dropped a bit.
The W-41 option engine is rated at 190 HP and is mated to a Gleason Torsen differential. Several years ago I came across a W-41 draintrain and used it to replace the one in my 1988 Quad 4 Grand Am. Other than some major wiring harness surgery, and lots of update/backdate part swaps, it bolted right in. The W-41 engine idles somewhat roughly and doesn't really put out the power until about 3000 RPM. From there it's lots of fun up to the redline. Even with the Gleason, the car needs suspension work to help get the power to the ground.
The Gleason Torsen is a "torque sensing" limited slip differential based on worm gears. The operational theory is based on the fact that you can't drive a worm gear backward. The advantage of the Gleason is that the torque transition from the low traction wheel to the high traction wheel is pretty much unnoticeable. It only becomes apparent on ice or if you start hydroplaning. The disadvantage is that the LSD unit runs about $2K! If you're lucky you might locate a W-41 car in a junkyard and perhaps they won't know what's in the transaxle. So far I haven't seen a wrecked W-41 vehicle (I got my drivetrain from a performance parts supplier that bought a race team's spares). If you perform the engine swap you MUST get the ECM (brainbox) with the new engine. Also, there is at least one MEMCAL pack (chip) that alters the WOT throttle response and raises the redline from 6800 to 7300 RPM.
To the best of my knowledge, the W-41 option was only offered with the 5-speed transaxle. Before I bought a 33 year old house I spent a lot of time working on the Grand Am. Now it's become a grocery getter and gets autocrossed every once in a while. I did the engine swap myself, so if there are any questions I can probably provide an answer. Let me know if you have more questions.
From: Will Remaklus (remaklus@vnet.IBM.COM)
There has been a lot of recent interest in the QUAD 4. Let me share my facts and impressions:
| | |
| --- | --- |
| | The rate of head gasket failure from 1987 to 1993 was 11%. Anything about 4% is considered excessive. |
| | The rate of coil pack failure, for the same time period, is approximately 40%. |
| | Oil pressure sender failure: 15% |
| | Check valve failure: 7% |
GM has a secret warranty to cover most of these problems. I believe the only official recall was for the fuel feed line.
From: Joe Wynman
Performance: Great. No its nothing like a V-6 at the bottom, but then again, a V-6 is nothing like the QUAD 4 at the top end. Off idle, it feels just like a 2.5 L. My daily driver is a 1987 coupe, modified to look like a fastback Formula (QUAD FOURMULA), with a slightly worked QUAD 4. Approximate HP: 200 HP. Any v-6 will blow its doors off starting from a dead stop, Then the tach hits that magical 3000 RPM number, and forget it, it takes off like a bat out of hell. On the high way there are many surprised "performance" cars when I get on it. Like everything, its not for everyone. If you consider the QUAD 4 Fiero conversion, drive a QUAD 4 Fiero for yourself.
The other advantage is a weight savings of approximately 50 to 70 pounds off the 2.5 Liter motor.
From: Joe Wynman
"So how difficult is the conversion/installation?"
Fairly easy with a good kit.
"Does it bolt up to the transaxle?"
No, not exactly. There's also shift linkage, A/C lines, coolant lines, etc. Mine took a few months working only on weekends in a WELL equipped shop. But I had an awful kit from FOCOA. I might have well not had a kit at all!
"Will it require major fabrications to get engine mounts/dog bone to match up?"
Should be included in the kit. Don't use a kit that has a dogbone.
"Are the electronic and fuel injection the same?"
The Quad-4 is an entirely different engine than the Iron Duke. It's even smaller than the Duke! The main source of its many horses is double-over-head cams (DOHC) and 16 valves (4-valves per cylinder) and high compression pistons. There are different versions of the Quad-4, but the conversion is not worth doing if you don't do it with a HO [High Output] Quad-4. Horsepower and torque numbers should be higher than the GM specs depending on your intake and exhaust systems.
"Also, how big a deal is it to put a 5-speed Getrag into a car originally equipped with a 4-speed?"
Not a big deal if you have a good kit and you get the Getrag that was originally attached to the Quad-4 (ie, not a Fiero Getrag).
"My main question is 'Is it worth it?'"
It depends a lot on your intentions, your expectations, and THE KIT. Even with the hell I went through, it has been worth it.
For information on my conversion, see my web page: http://iquest.com~fiero/
From: Robby C. Sperr

[Top]
Online Service Guide Main Page